I have few people that says it don't work anymore. I actually went to few blogs talking about Blogger.com not allowing to customized the favicon on address bar or the title bar. Well, I've tried few codes and sure is,there are codes that did not work but after different trial and error, I found a code with lil editing, it worked for me. as you can see on my title bar has custom logo.It is simple yet takes few steps to
follow . First you need to create a favicon or convert an image into .ICO extension (favicon- is short for favorite icon , URL icon ,website icon, shortcut icon) These sites will make you generate the favicon:


Site 1 IconJ is the answer to all favicon needs, it converts image to favicon and it can also host your favicon and you don't need to sign up . After you upload the image it will actually generate you the CODE . Choose "Host It at IconJ.com: (Direct Link) ." Copy the code .




Now log in to you Blogger.com account andedit your template html (it is a good habit to save and back up your template when u edit)
Find </head> using "Ctrl / Command + G" .Paste the code you copied from IconJ just before the </head> I just like to paste it here because it is easy to find and I dont have to mess with lots of <meta> tags.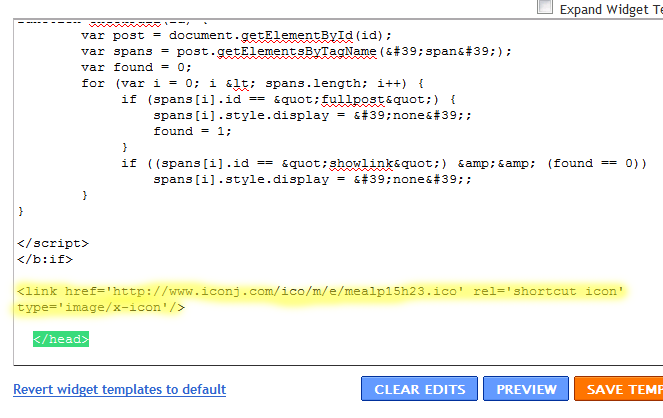 "Save Template" , now when you visit your page, you should see the custom icon on title bar or the address bar.

Site 2. FAVICON.CC will make you create your own favicon and convert regular image into favicon format. SO this is still nice site to use if you want to make your own favicon then use ICONJ as your Favicon Host.

Site 3. Favicon Generator and Gallery also let you generate a favicon but the difference is you could also submit it to their gallery and they would add your icon as part of their change link system.


PLEASE TAKE TIME TO WRITE REVIEW TO ALEXA IF THIS TUTORIAL WORKS FOR YOU, THANKS